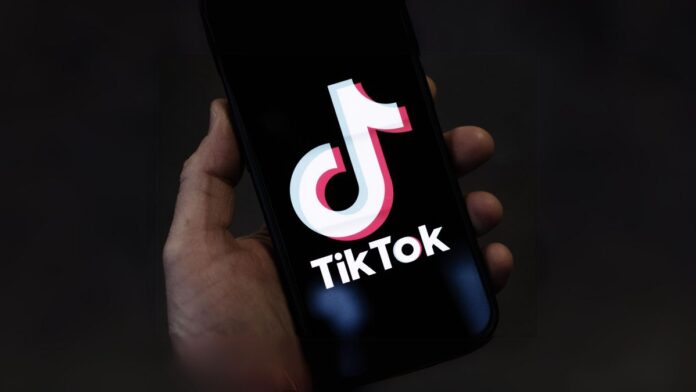 The government of Nepal has decided to ban Tiktok in Nepal. Government Spokesperson and Minister of Communication and Information Technology Rekha Sharma has informed that the decision to close TikTok has been made due to the deterioration of social harmony.
She said that the process of implementing the decision will start in a few days.
Many countries have shut down TikTok due to privacy and cyber security concerns. Although some have decided to close completely, some have closed partially.
Tiktok banned in Nepal

TikTok, whose mainland Chinese counterpart is Douyin, is a short-form video hosting service owned by ByteDance. It hosts user-submitted videos, which can range in duration from 3 seconds to 10 minutes.Since their launches, TikTok and Douyin have gained global popularity.
TikTok is mainly used for creating and sharing short videos. These videos can be anything from funny skits and memes to educational content, dance and lip sync videos, and more.
Nepal closes TikTok due to social harmony concerns, echoing a global trend of bans.
Several nations, including India, Afghanistan, Australia, and many European countries, have either partially or completely banned TikTok due to various worries.
Concerns span privacy, security, and inappropriate content, with reasons varying from social issues in some countries to privacy and security in others.
ByteDance's TikTok faces ongoing scrutiny despite claims of data non-disclosure, fueling a global debate on safety, content, and influence.

TikTok is run by Chinese technology company ByteDance. Although this app has been accused of giving data to the Chinese government, the company has been saying that it does not give any kind of data to the government.
However, Nepal is not the first country to ban TikTok. Before this, many countries have completely or partially banned Tiktok.
These are the countries where Tiktok is blocked:
India
Neighboring India has banned Tiktok nationwide. In 2020, dozens of Chinese apps, including TikTok, were shut down nationwide due to privacy and security concerns. Among the closed apps was WiChat. India gave the company TikTok an opportunity to respond to questions raised on privacy and security. But later decided to close permanently.
Afghanistan
After the Taliban government came to Afghanistan, Tiktok was closed. In 2022, the Taliban decided to shut down TikTok along with PUBG. It was said that this decision was taken to prevent the youth from going astray.
Australia
Australia has partially shut down TikTok. It has stopped running Tik Tok on government phones. Australia has stopped using TikTok on government phones following a recommendation from intelligence and security agencies.
Belgium
Belgium has also partially blocked TikTok. Due to cyber security, privacy and spread of misinformation, the decision has been taken to shut down Tik Tok on government phones. Prime Minister Alexander de Crewe decided to shut down TikTok for six months last March. It was said that it will be reconsidered after 6 months.
Canada
The Canadian government has also banned TikTok on all government mobile phones. Last February, it was decided to shut down Tik Tok on all government phones. Even government employees have been made unable to download the app.
Denmark
Denmark also banned TikTok on government phones last March. Denmark has also banned it, citing cyber security. It has been banned because of the possibility of spying and asking for permission to access the phone.
European Union
Last March, the European Union also decided to temporarily block TikTok. It was decided not to use Tik Tok on the phones of government employees. Along with the European Union's decision, other countries have also been banning Tiktok.
France
France also decided to partially close TikTok last March. It has blocked Twitter, Instagram and other apps on government employees' phones. It said that not only Tiktok will be banned but entertainment apps will also be banned. It shut down such apps saying that they are not safe and can be dangerous.
Latvia
Last March, Latvian President Edgardus Rinkevics said he had decided not to run TikTok for security reasons. He said that he had deleted Tik Tok and that the app was banned from running on phones with government mails.
The Netherlands
The Netherlands has also banned TikTok on employees' phones citing security reasons. It said that while Tiktok was not banned by name, the government was discouraging it from running anti-national apps.
New Zealand
According to the advice and suggestions of government cyber security experts, New Zealand has also closed Tik Tok on the phones of government employees and parliamentarians. The app was blocked from all phones in Parliament's network. However, there is no restriction for those who want to drive.
Norway
The Norwegian government also asked not to install it on the phones of government employees. Norway's speaker said that TikTok should not be connected to the parliament's network. The capitals Oslo and Bergen also told their employees to remove TikTok from their phones.
Pakistan
Pakistani authorities have temporarily closed it at least four times. Since October 2020, the Pakistani government has been shutting down Tiktok several times. This app has been banned for promoting immoral content.
Taiwan
In December 2022, Taiwan banned TikTok in public areas. Taiwan banned it from government phones after the FBI said it posed a security challenge. Not only phones, but also tablets, desktops, laptops, etc. have been banned from running Chinese apps.
Britain
The UK also banned the use of TikTok on phones used by ministers and government employees last March. Government phones were said to be closed due to security threat assessment. But this rule does not apply to private phones.
United States of America
The US has also partially blocked TikTok. It had given 30 days to remove Tik Tok from government phones last March citing security threats. The decision to ban Tik Tok was made only on the phones of government employees.
Somalia
Last August, Somalia also blocked it for containing content related to terrorism. The government shut down apps like TikTok and Telegram, saying they were run by terrorist groups.