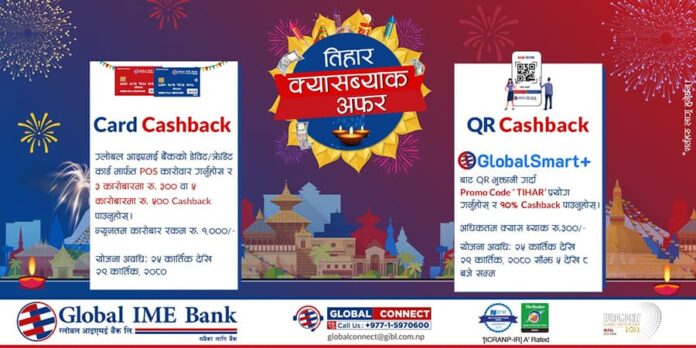 Tihar is around the corner, and Global IME Bank has an awesome treat for its customers! If you've got a debit or credit card from them, here's some good news: you can bag cashback rewards when you use it for shopping digitally.
According to the bank, debit and credit card holders will get a cashback on transaction Rs 1,000 or more. customer will get Rs 300 for more than 3 transaction and Rs 500 on 5 transactions in POS machines across Nepal.
But that's not all. If you're into using the Global Smart Plus mobile app, you will get for an extra amount . Between 5 PM to 8 PM from Kartik 25 to Kartik 29, if you make payments using the QR Payment, you could get a sweet 10% cashback or up to Rs 300. for that you need to use coupon code " TIHAR".
This Tihar, as you light up your homes and celebrate, don't forget to make the most of these digital deals from Global IME Bank. It's a win-win situation: you get to enjoy the festive season, and at the same time, get some extra cashback to brighten up your celebrations !