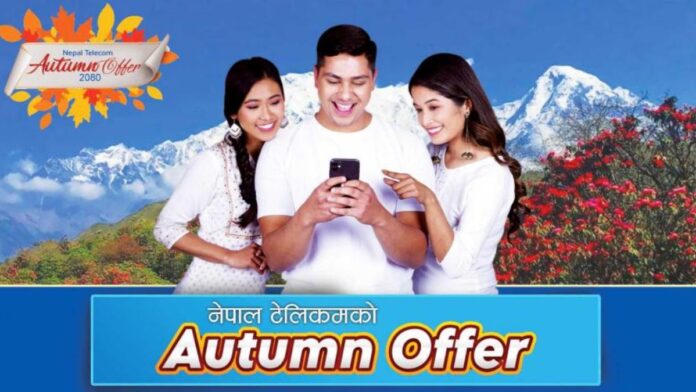 One of Nepal's leading telecommunications providers, Nepal Telecom is ushering in the autumn season with a range of exciting offers for its customers. The 'Autumn Offer' is set to launch from Ashoj 25th and features a variety of voice, data, and SMS packages designed to meet the diverse needs of their users.
Unveiling the Autumn Offer
The Autumn Offer from Nepal Telecom includes several enticing packages to cater to the communication requirements of both prepaid and postpaid customers. Here are some of the key highlights of this offer:
1. Sajilo Unlimited 636 Package
Nepal Telecom's 'Sajilo Unlimited 636 Package' has now been extended to prepaid mobile users, allowing a broader range of customers to enjoy its benefits. Priced at NPR 636, this package includes unlimited on-net voice calls, 150 minutes of voice on other networks (off-net), 200 SMS for all networks, and a generous 9 GB data allowance. The package is valid for 28 days, providing an extended period of uninterrupted connectivity.
2. Unlimited On-Net Voice Package
Under this package, customers can enjoy unlimited on-net voice calls within the Nepal Telecom network. There are two variations of this offer available. The first offers unlimited daytime voice calls from 5 am to 5 pm, and the second offers unlimited night-time voice calls from 10:00 pm to 6:00 am.
3. All Net Voice Pack
For just NPR 18, users can enjoy the convenience of calling for 25 minutes to any network throughout the day. This package provides flexibility in communication, allowing customers to stay connected with friends and family regardless of their service provider.
4. All Time Data Pack
Nepal Telecom's 'All Time Data Pack' priced at NPR 95 offers 2.5 GB of data that can be utilized at any time during a seven-day period. This package is ideal for those who require consistent access to the internet for various activities.
Additional Features and Bonuses
Nepal Telecom is going the extra mile to delight its customers by offering additional features and bonuses as part of the Autumn Offer. Some of these include:
– 4G All Time Data Offer: Enjoy the benefits of a 4G data package with appealing features.
– Social Media Pack: Stay connected with social media platforms like YouTube and Facebook.
– Stay Connected All Time Offer: Get even more value from your data plan with this special feature.
As a special bonus, customers who download the 'Nepal Telecom' app will receive 1 GB of data that can be used over three days, enhancing their mobile experience.
To access these exciting packages under the Autumn Offer, customers simply need to dial *1415*1#. Additionally, detailed information and service purchases can be made through Nepal Telecom's official app and website .
In conclusion, With a wide range of affordable packages, unlimited data, voice, and SMS options, this offer ensures that customers can stay connected and enjoy seamless communication. Don't miss out on the opportunity to enhance your mobile experience and make the most of these fantastic deals.
Thank you for joining us, and we look forward to keeping you updated on more exciting developments in the world of technology and communication.