Samsung phones are the most popular Android-based smartphones in many markets, including Nepal. Samsung is the biggest electronics company in the world.
Some Samsung smartphone series available in the market are :
Galaxy Z series: Foldable phones
Galaxy S series: Flagship phone with the fastest chipset and best cameras
Galaxy A series
Galaxy F series
Galaxy M series: ( Samsung told them as power and speed at a price you love )
Samsung has a wide range of models from budget to high-end.
There are two distributors of Samsung phones in Nepal: Integrated Mobility Solutions (IMS) and Him Electronics.
If you are looking to buy a Samsung smartphone in Nepal, then for warranty and after-sales service, you should only buy a phone with a hologram of one of these two companies on the box.
Samsung Galaxy A04 is the latest phone launched in Nepal.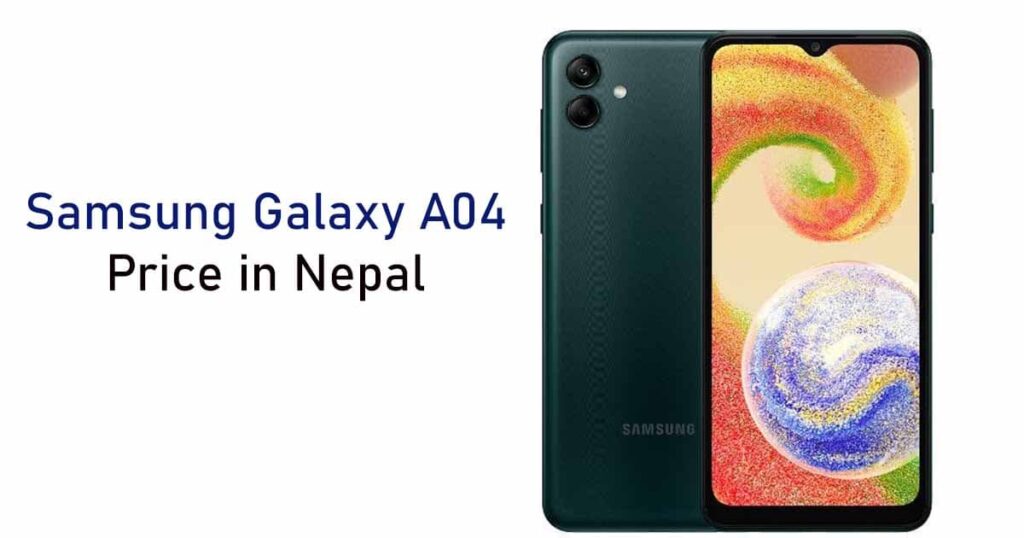 Samsung Mobile Price In Nepal
Model
Best Buying Price
Galaxy A04e 
Rs. 13,499  (3+32GB)
Galaxy A03s 

Rs. 15,999 (3+32GB)
Rs. 17,499 (4+64GB)
Galaxy A04
Rs. 14,999 (3+32GB)
Rs. 16,999(4+64GB)
Galaxy M04
Rs. 15,999  (4+64GB)
Rs. 17,999  (4+128GB)
Galaxy A04s 
Rs. 19,999 (4+64GB)
Rs. 21,999  (4+128GB)
Galaxy A14 4G 
Rs. 20,999  (4+64GB)
Galaxy F13 
Rs. 23,999 (4+128GB)
Galaxy A13 
Rs. 21,499 (4+64GB)
Rs. 25,499 (6+128GB)
Galaxy M14 5G 
Rs. 24,999  (6+128GB)
Galaxy A14 5G 
Rs. 27,999  (6+128GB)
Rs. 29,999   (8+128GB)
Galaxy A23 
 Rs. 23,999 (4+64GB)
Rs. 27,999 (6+128GB)
Galaxy A24 
Rs. 28,999 (6+128GB)
Rs. 31,999 (8+128GB)
Galaxy M33 5G 
Rs. 33,999 (6+128GB)
Rs. 35,999(8+128GB)
Galaxy A33 5G 
Rs. 42,999 (8+128GB)
Galaxy A34 5G 
Rs. 45,999 (8+128GB)
Galaxy F54 5G 
Rs. 52,499 (8+256GB)
Galaxy A53 5G 
Rs. 57,499 (8+128GB)
Galaxy A54 5G 
Rs. 56,999 (8+128GB)
Rs. 59,999 (8+256GB)
Galaxy A73 5G 
Rs. 75,999 (8+256GB)
Galaxy S22 Ultra 
Rs. 169,999 (12+256GB)
Galaxy S23 
Rs. 127,999 (8/256GB)
Galaxy S23+
Rs. 151,999 (8/256GB)
Galaxy S23 Ultra
Rs. 191,999  (12/256GB)
Rs. 209,999 (12/512GB)
Galaxy Z Flip 3 
Rs. 89,999  (256GB)
Galaxy Z Fold 3 
Rs. 161,999 (512GB)
Galaxy Z Flip 4 
Rs.114,999 (8+256GB)
Galaxy Z Fold 4 
Rs.199,999 (12+256GB)
Galaxy Z Flip 5
Rs. 139,999 (8/256GB)
Galaxy Z Fold 5
Rs. 226,999 (12+256GB)
Rs. 239,999(12+512GB)