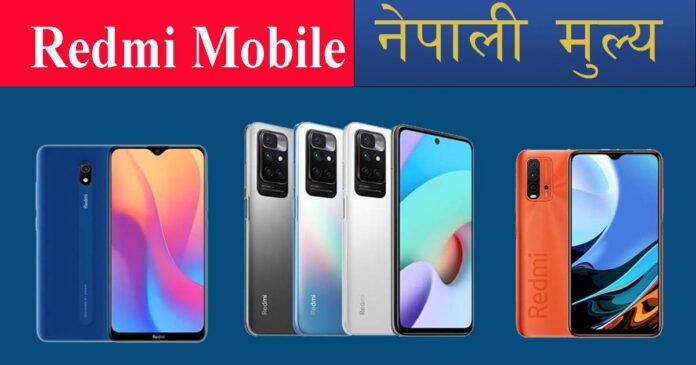 Xiaomi, the renowned Chinese tech brand, has maintained its reputation in Nepal by consistently launching high-performance smartphones at remarkably competitive prices. In addition to its core smartphone production, Xiaomi has displayed a commitment to expanding its product portfolio.
They now offer a diverse range of electronic devices and accessories, including Mi TV, Mi fitness bands, Mi Air Purifiers, and more. This strategic expansion has positioned Xiaomi as a comprehensive electronic hub in Nepal, catering to a broad spectrum of consumer demands while maintaining an attractive Redmi price point.
In this article, we will discuss all Redmi mobile phone specifications and Redmi smartphone prices in Nepal.
Redmi Mobile Price in Nepal 2023
| Model | Price | Storage |
| --- | --- | --- |
| Redmi A1 | Rs 11,999 | 2+32GB |
| Redmi A1+ | Rs 12,499 | 2+32GB |
| | Rs 13,999 | 3+32GB |
| Redmi A2 | Rs 10,499 | 2+32GB |
| Redmi A2+ | Rs 11,499 | 2+32GB |
| | Rs 11,999 | 3+64GB |
| Redmi 10 Prime 2022 | Rs 20,499 | 4+64GB |
| | Rs 23,999 | 6+128GB |
| Redmi 12C | Rs 14,499 13,999 | 4/64GB |
| | Rs 16,999 15,999 | 6/128GB |
| Redmi 12 | Rs 17,999 | 6/128GB |
| | Rs 20,999 | 8/256GB |
| Redmi Note 12 4G | Rs 22,999 | 4+128GB |
| | Rs 24,999 23,499 | 6+128GB |
| | Rs 26,999 25,499 | 8+128GB |
| | Rs 27,999 26,499 | 8+256GB |
| Redmi Note 12 5G | Rs 29,999 28,499 | 6+128GB |
| | Rs 31,999 30,499 | 8+256GB |
| Redmi Note 12 Pro 5G | Rs 38,999 36,999 | 6+128GB |
| | Rs 41,999 39,999 | 8+256GB |
| Xiaomi 13 Lite | Rs 54,999 | 8+128GB |
| | Rs 57,999 | 8+256GB |
| Xiaomi 12X | Rs 76,999 71,999 | 8+256GB |
| Xiaomi 12 | Rs 92,999 87,999 | 8+256GB |
| Xiaomi 13 Pro | Rs 129,999 | 12+256GB |