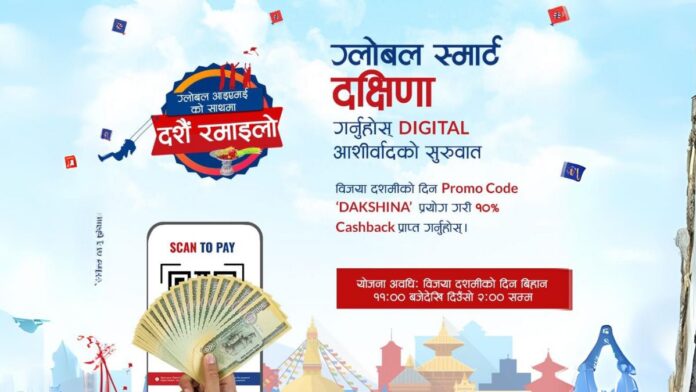 In an effort to encourage digital banking services, Global IME Bank is delighted to introduce an exclusive cashback offer for its customers who use the Global Smart Plus app. In this exciting promotion users to receive a 10% cashback,( up to Rs 100), on transactions made as Dakshina during the Tika Day festival. To avail of this offer, simply include the promo code 'DAKSHINA' when sending money.
What is Dakshina?
Dakshina is a tradition in Nepal, where individuals offer gifts or money as a token of respect and blessings during various festivals and ceremonies. With Global IME Bank's Digital Dakshina offer, the age-old practice is seamlessly combined with modern banking convenience.
When Can You Enjoy the Cashback?
On Vijaya Dashami, which falls on Kartik 7, 2080, Global Smart App users of Global IME Bank can receive Dakshina from 11 AM to 2 PM.
How to get Your Dakshina ?
Make sure you are a Global Smart Plus app user.
During the transaction, remember to include the promo code 'DAKSHINA.'
Receive instant cashback of 10%, (up to Rs 100) right in your Global IME Bank account.
Why Choose Global IME Bank?
Global IME Bank is a leading financial institution in Nepal, with a branch network spanning 77 districts. Serving over 45 million customers, the bank operates through a vast network of more than 1,100 service centers. This includes 352 branch offices, 371 ATMs, 322 branchless banking services, 65 extension and revenue collection counters, and 3 foreign representative offices. With a commitment to excellence and innovation, Global IME Bank is at the forefront of providing convenient, secure, and rewarding banking experiences.
Don't miss out on this fantastic opportunity to merge tradition with technology and make the most of your Tika Day celebrations. Experience the convenience and benefits of digital banking with Global IME Bank's Digital Dakshina offer. Send your blessings and gifts seamlessly and enjoy the added advantage of 10% cashback. Happy Dashami!