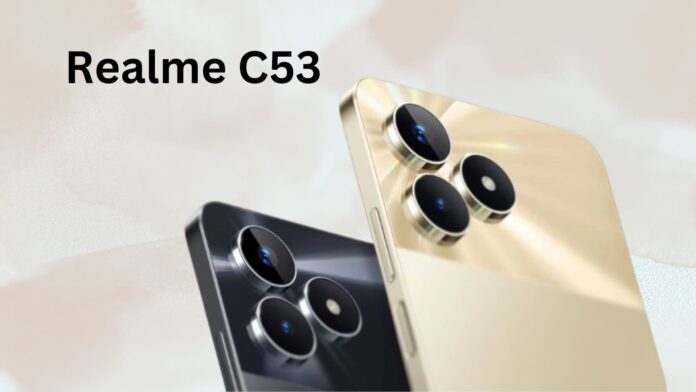 The smartphone market in Nepal has just received a remarkable addition – the Realme C53. This eagerly anticipated device offers exceptional features, performance, and an affordable price tag. In this article, we will delve into the details of the Realme C53 pricing in Nepal, giving you a comprehensive understanding of how this smartphone stands out in terms of value for money.
Realme C53: A Brief Overview
Before we get into the nitty-gritty of pricing, let's quickly recap the key features of the Realme C53. This sleek and stylish smartphone boasts a slim design with a glass front, a plastic frame, and a plastic back. It is available in two attractive colour options – "Champion Gold" for those who love vibrancy and "Mighty Black" for those who prefer understated elegance.
The Realme C53 sports a 6.74-inch FHD+ IPS LCD display with a 90Hz refresh rate and a peak brightness of 450 nits. This display offers vibrant visuals and a smooth user experience, whether you're gaming, streaming, or simply browsing the web.
The Realme C53 is powered by the Unisoc Tiger T612 4G chipset, offering reliable performance for everyday tasks and gaming. It comes with 6GB of LPDDR4X RAM and 128GB of storage, which can be expanded up to a staggering 2TB.
Photography enthusiasts will appreciate the 108MP primary camera on the rear. Users will get an 8MP front camera for high-quality selfies and video calls. A 5000mAh battery and 33W SuperVOOC charging ensure that the Realme C53 can keep up with your active lifestyle.
Now, let's talk about what you've been eagerly waiting for – the Realme C53 price in Nepal. This budget-friendly smartphone is priced at NPR 17,999 for the 6GB RAM and 128GB storage variant. This competitive pricing places the Realme C53 in a sweet spot, making it an attractive option for budget-conscious consumers who don't want to compromise on features and performance.
Availability
The Realme C53 is readily available for purchase through various online stores and authorized retailers across Nepal. This widespread availability ensures that you can easily get your hands on this impressive smartphone without any hassle.
Conclusion
In conclusion, the Realme C53 is a stellar addition to the Nepali smartphone market, offering top-notch features at an affordable price point. With its stunning design, impressive camera capabilities, and powerful battery, it's a device that ticks all the boxes for modern smartphone users. If you're in search of a smartphone that offers great value for money, the Realme C53 should be at the top of your list. Don't miss the opportunity to own this budget-friendly marvel that delivers on all fronts. Grab the Realme C53 today and experience smartphone excellence without paying high.